New Bedroom Wing Complete
the_time('F, Y'); ?>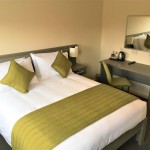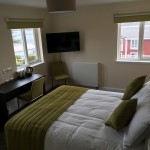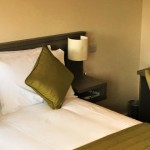 The largest hotel in the Falkland Islands has just got bigger.
The Malvina House Hotel is proud to introduce a new bedroom concept that will appeal to potential customers who value price.
In November 2017, ready to commence the new tourist season, the Malvina House Hotel opened its new wing of 37 bedrooms to the general public, thus boosting  its total rooms to a total of 72. 
The new wing has been designed to attract the traveller on a budget looking for a value accommodation option, therefore broadening the hotels appeal to a larger market audience.
Having already the offering of a range of standard and executive rooms along with a suite, the Paddock rooms are a welcome addition to that which is the largest hotel upon the island.
Staying in these new rooms involve a very short walk from the main house, bar and restaurant.   The rooms feature minimalistic furniture of open wardrobes, desk and chairs, television offering a basic selection of channels, hot beverage tray, hairdryer, good size towels and basic toiletries as standard in every room.  There has been no compromise on the comfort of the beds, all made with lovely fresh and crisp bedding and the en-suite shower room a comfortable size with powerful hot showers.  All rooms are fully central heated.
Though there are differences, the new rooms still offer a quality accommodation option. The furniture is bespoke for the new build, being of modern, minimalistic and contemporary design, which will appeal to the international traveller on a budget.
To diversify market appeal, four of the rooms are interconnecting so have the ability to be used for families or friends travelling together.  One room within the building offers additional space for visitors in wheelchairs and has accessible features including step free access and a wheel in wet-room.
Talented local artist, Julie Halliday of Studio 52 provided prints of Falkland scenery for each of the bed rooms; the aim of the art work is to heighten the authentic Falkland Islands experience.
The new entry level rooms do have slight differences from the facilities and pricing of the existing rooms offered though standards are not compromised in order to achieve this.
For those who prefer a little more luxury, the standard and deluxe rooms will still be available to book with different options and features, such as Sea Views, in-room fridges, larger flat screen TV's with additional satellite channels, direct dial telephones, relaxing armchairs or sofas, Nespresso coffee makers along with the beverage tray, room service, selection of toiletries and thick fluffy towels and bathrobes.
The emphasis and ethos of the guest experience remains the same regardless of the room with which the guests choose to stay; a good night sleep and a refreshing stay.