Malvina House Hotel proudly sponsers Falkland Islands Football at the XVI NatWest Island Games
the_time('F, Y'); ?>
XVI NatWest Island Games – Jersey June 27th – July 3rd 2015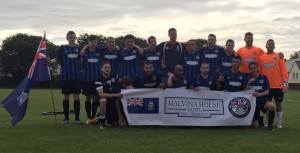 Stanley Services Limited (SSL), owners of the Malvina House Hotel and Falkland Islands Holidays, wish Falkland Islands Football every success in this year's Natwest Islands Games being     held in Jersey.
Both Malvina House Hotel and Falkland Island Holidays are proud to be co-sponsors of the team and hope they will be able to repeat or better their bronze medal in 2013.
SSL have supported football in the Islands since 1988 and were delighted to hear that the team had started off well by winning their first match against Hitra 2 -1 on Sunday 28th June.
For further updates on the Games:-
Falkland Islands Overseas Games Association