Malvina House Hotel has started work on two new exciting projects.
the_time('F, Y'); ?>
Externally a new lay-by is being created at the front of the hotel, to make it easier for the drop off and collections of guests.  Ideal for groups and parties, but also individual guests, the drop off zone will help to ensure the safety of passengers and pedestrians whilst arriving and departing the hotel and will help to ease any possible road congestion.
The lay-by has been designed purely for drop off and collections of passengers, for those wishing to park there is the choice of the original and newer large car park located at the rear of the hotel.
Stanley services have offered this lay-by facility to the newly relocated Museum opposite the hotel , for the use of coaches as a convenient drop point and collection for all visitors.
Great care has been taken to use as much of the original stone as possible and we are looking forward to seeing the finished result.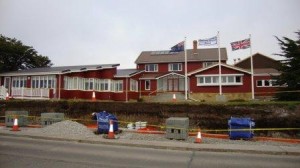 Internally the original 12 West Wing rooms will be undergoing a total refurbishment during the next few months and should be finished by the end of September 2014.  The original rooms have lasted very well, but now are looking a bit tired.   The refurbishment will involve completely new bathrooms and bespoke furniture.
We are also improving on our facilities for residential guests with physical disabilities.  One of the bedrooms on the ground floor is having the bathroom specially modified to be able to be used by people in wheelchairs, with a wet room construction rather than a traditional bath or shower unit.