First Suite at the Malvina House Hotel
the_time('F, Y'); ?>
At the same time the reception area was refurbished to complement the design and a new lounge area was created for the comfort of our guests.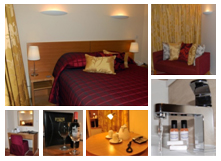 The main house bedrooms have also been completely refurbished with the creation of the hotels first bedroom suite, with its own separate lounge, both benefitting from beautiful views, an exceedingly large flat screen television and in room fridge/mini bar that can be ready stocked with your favourite chilled items prior to arrival.  The bedroom is not only beautifully furnished with soft carpet, thick curtains, luxurious bedspread but also a super king bed which will ensure you have a perfect nights sleep.
The new suite is perfect for celebrations, a romantic night away, if you need a private area for informal meetings or just for a little bit of indulgence.
The restaurant, reception and main house rooms are part of the hotels ongoing refurbishment and development plan.  This adds to the list of work already completed including the new Spa room, new Kitchen and twenty bedroom extension.