Falkland Islands Tourist Board's annual awards 2018
the_time('F, Y'); ?>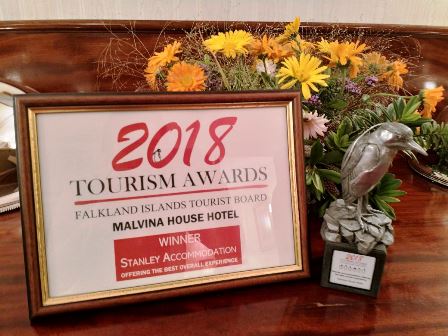 On Tuesday 17th April 2018 at a reception at Government House for the Falkland Islands Tourist Board annual awards, Carl Stroud General Manager and Nicola Scott Assistant Manager received the award on behalf of the Malvina House Hotel for "Stanley Accommodation offering the best overall experience".
Tourists and travellers are able to nominate throughout the season in each category the person or organisation that has made their visit and experience of the Islands special, with the highest number of votes in each category wins the awards.   
Carl Stroud, Hotel General Manager quoted "The team have worked very hard to provide high standards of service and it is a credit to their commitment.    I am delighted and proud to accept the awards on behalf of all the staff.   It is great to hear that the visitors to the Islands have enjoyed their experience with us.  I would like to congratulate all the other winners and to everyone who was nominated within the different categories."
Tom Swales Managing Director of Stanley Services Limited (which owns and operates Falkland Islands Holidays and the Malvina House Hotel) stated "This is a fantastic advert for tourism for the Falkland Islands.  I am so pleased for Carl Stroud (GM) and his team at the Malvina House Hotel who really do work hard to ensure that all their guests are looked after.  I am delighted that Margaret Williams as newly appointed the manager of Falkland Islands Holidays taking over from Jenny Luxton, has continued the high standards of looking after our clients.  The team of Margaret, Jenny and Sue have had a particular interesting and challenging year, rearranging people's holiday itineraries due to flight delays and cancelations, to ensure that the traveller still has an amazing experience whilst on Island despite the disruptions.  Jenny Luxton wholeheartedly deserves the award for "outstanding contribution to tourism" she has been the main driver for land based tourism for a period of over 30 years.  I am so proud of all our team members who work tirelessly to contribute to the Falkland Islands tourism industry at large and the awards are a small recognition of each persons, hard work and dedication to their profession".