Captains Choice
the_time('F, Y'); ?>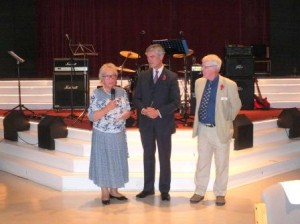 Captain's Choice arrived in the Falkland Islands on the 2nd November 2013 as part of their 20 day Magic of South America tour, starting in Brazil and ending in Bermuda.
Since 1994, Captain's Choice has been Australia's experts in inspired travel, big and small and their business has a proud tradition of such moments. They have set a new standard with the private charter of a Qantas jet for international touring and they pioneered Australian travel to destinations such as Vietnam, Cuba, and Bhutan and have an active engagement with many of the global communities they visit.  In addition to visiting the countries they also support many diverse charities within the community of the destinations on their tours.   Captain's Choice together with generous donations from their guests on tour, they have contributed over $3 million to date.
81 guests arrived on the 2nd of November, that evening a traditional carvery was enjoyed by all at the Malvina House Hotel and a lecture by Ewen Southby Tailyour on the conflict in preparation for those attending the Battle tour the following day.
The next day a choice of 3 trips were offered and all tours were thoroughly enjoyed – 40 clients going out to Bluff Cove, where clients boasted a truly hospitable day, superb food and overall experience  with Hattie, Kevin and her team. 30 taking the Battle tour with their guides, veteran, Ewen Southby-Tailyour accompanied by Tony Smith and Gary Clement who made the trip very moving and interesting with a smoko being provided by Andi Neat at San Carlos and a buffet lunch at Darwin House.  13 guests going out to Volunteer Point with Nobby Clarke, Carrot, Nyree Heathman, Ron Bucket and Charlene Rowlands – again a superb smoko provided by Derek and Trudi at the point before experiencing the wonders of the King Penguins.
On the last evening  – The Gala event, held at the Town Hall was superb with 105 guests in total including HE Governor Hayward.  A full packed evening with an outstanding meal provided by Matthew Clarke and his superb team at the Malvina House Hotel, with Carl and Jasper and staff offering excellent service and fluidity to the evening.  Entertainment provided by Andi Neat and Tim Cotter, the Community School Musicians and the evening came to a close with the Pushers.  Gary Clement filled the role perfectly as Master of Ceremonies!
A presentation was made to the Governor by clients of Captains Choice for approximately £1000 which was awarded to Falklands Conservation, SAMA and Stephen Jaffray memorial.  Funds were raised by holding a raffle at Iguassu falls the night prior to arriving in the islands, to see who would sit at the Governors Table.  The 4 guests at the table were Mrs Rae Ward, who presented the money to HE, Mr Sandy McWilliam  and  Mr & Mrs Hiscock, who lost their nephew in the conflict and were over the moon that some of the funds were to be given to SAMA.
There were handmade gift boxes on the table made by Arlette Bloomfield of FIH and inside were handmade Pale Maiden vanilla centre sweets from Bitter Sweet – which were a lovely addition to the table decorations!
All in all a very successful tour which Falkland Islands Holidays are proud to have managed. Arlette Bloomfield manager of FIH, would like to take the opportunity to thank all of the above mentioned and also FITT for their transportation services!  Captain's Choice is looking to take another tour with us next season in early 2015!
Quote from Richard Moras, CC Tour Manager: –
"Greetings from Chile…. Everyone still raving about Falklands stopover. Thanks so much for the pictures of a very special night.  Many thanks too to Arlette for delivering such a professional and successful tour product"